Ciao

12.01.2018
SOS Sonya

Dear Settlers,
It is quite uncommon for a Captain of a famous ship to send out SOS signals. Surely, something serious is at stake if Sonya needs your help. Are you up to the task?

Read her full story in our forums and carefully choose the next step which will decide Sonya's fate. Let's try to help her out!
Good luck!
BB_Sious

06.01.2018
Epiphany

Dear players,
The settlers in your kingdom made lots of preparation to celebrate today's occasion. Take time to indulge, sit back and relax. Enjoy the gathering with family and friends!

A special gift has been sent in-game.
Happy Settling!
Your "The Settlers Online" Team

05.01.2018
Guess the song: winners!

Dear Settlers,
As our Christmas emoji contest came to an end, it is now time to announce the lucky winners! Could you be one of them? Take a look in our forums!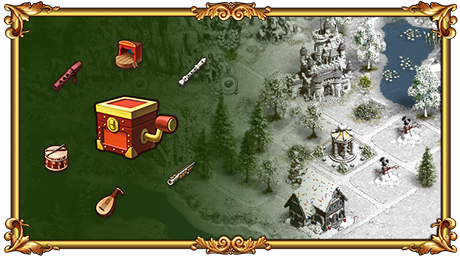 Thank you everyone for taking part in the fun and congratulations to the winners!
Happy 2018!
BB_Sious

28.12.2017
Happy New Year!

Dear Settlers,
Today is the dawn of a New Year: a time to reflect and grow from the past year's experiences. It also marks a new beginning with good tidings, hope and peace!

Happy New Year!
Your "The Settlers Online" Team

26.12.2017
Santa's Collectible Care Package

Dear settlers,
BB_Santa has proven to be very active these days. Not only did he distribute gifts all around the world, but he also found some Christmas collectibles on his way!

Check your in-game mails to see if you've been on his nice list!
Ho Ho Ho!
BB_Sious

25.12.2017
Gifts from... Mr Scrooge!?

Dear Settlers,
There have been whispers of a madman running down your streets in nothing but his old-fashioned pyjamas, handing out gifts to everyone he sees while screaming "Merry Christmas"! This most peculiar event aside, you can't say no to free presents!

Warm wishes for this festive season and happy holidays!
Your "The Settlers Online" Team